This one's going to be a political blog. I kind of feel like I should open with that kind of a statement whenever I talk about politics in general partly because I feel like if I didn't mention that this was a political posting that people would immediately dive into posts like this, get violently triggered and take it out on both me and my channel. But also because I realise there are some people out there who really don't care that much for politics and don't want it to get in the way of a good cult movie.
So consider this a "Trigger" warning. Not because Im going to say anything particularly controversial; But rather because if you don't want to know my political affiliation, if you don't care or if you think it would change your opinions of me fundamentally mentioning it now will give you ample time to click away or go and do something different. As it stands it's a boiling hot Sunday night on the 6th of May, I have a white rum and Dr Pepper on the go as I write this, and I've spent the day pretty much getting my house straight as the bank holidays are really the only time I have to do that kind of thing. Last night me and my partner watched "Liquid Sky" and "A nightmare on elm street" the former was very strange and about as erotic as a cold cloth to the gunnels the latter was like stepping back into a well worn pair of shoes. What im trying to say is if you don't want to faff around with hearing me waffle on about pie charts and various other political bits and pieces I highly recommend you go and check those films out. Let me know either in the comments here or on Facebook or my Youtube channel if you do go and watch them. I'd genuinely love to hear what you thought of them…
(My comments sections after this blog post gets read by anyone who cares)
…Right; So Im assuming if your reading this your invested. Good. So, a bit about myself. I was born in the North of England, my father was disabled (blind in one eye, damaged spinal cord and he's missing a kneecap) and my mother worked minimum wage jobs up until about 10 years ago when she finally moved into a position she currently works in that pays above minimum wage and is very happy with. I've never known true struggling but I realise that my parents have done there absolute damndest to both protect me from that and to build the lives they currently have, and im incredibly grateful that they've given me the life they have. In many ways they're both an inspiration to me. They had no handouts, they had no help and they've made themselves a very comfortable existence. They never talked to me about politics and I spent a good chunk of my childhood and early teens blissfully unaware of the political landscape mainly because I had no need to know about any of that stuff.
I find myself in a bit of a political quandary these days. As a citizen of the UK we've had a bit of an interesting couple of years politically. I myself first got involved in politics around the fall of Tony Blair. The "Happening" of Gordon Brown and the "Awakening of the Milliband".  At the time I just kind of described myself as just "Left wing" really. In the vaguest sense I kind of thought "Well; Labour help people, the Conservatives help businesses and the libdems…well they don't know what they want…BUT THEY WANT IT NOW!"  and that was pretty much how my political views went until about 2014…
(Changes were very much on the way)
In 2014 around the time of Ed Millibands general election run there was a sudden sort of change in politics in the country. Newspapers were chiming on about how Millibands policies were "Radically" Left wing and that he was effectively a "Loony leftie" trying to drag the party towards Socialism. But what the papers were saying and what I saw Ed say were two very different things. I didn't honestly see all that much difference between Ed Millibands policies and the policies that had been generated during the Blair and Brown years. But for some reason the papers and the media in general were absolutely rabid at trying to tear the man down. That I'd say was my first introduction to the ideas of Socialism, but at that point I had no idea what socialism even was nor did I really have any interest in following it up. At the time I just thought that "Socialism" just meant "Very left wing" or "Not being a total arsehole" and left it at that. Little did I know at the time that Socialism would go on to effectively punctuate the next 4 years and is set to continue to define the UK political undertones for the foreseeable.
The General election didn't quite go to plan and as a result there was a leadership election and in that leadership election a certain "Jeremy Corbyn" was entered into the running as a Joke candidate by members of the Labour party. In short; they were trying to be cruel. They put his name on the ballot in the same way that School kids would nominate the ugly guy and girl to win Prom king and queen. They never expected him to win and they thought it would be a funny way to give the far left of the Labour party a good kicking for a laugh. Little did they know that they're "Cruel Joke" would go on to change the political landscape in insurmountable ways.
(10 years ago if you'd told me this man would change british politics as we know it i'd have laughed you out of the building)
Corbyn won. Corbyn won by a majority that was unheard of in modern political times. And this made the center left of the Labour party who put him on the ballot in the first place collectively cack themselves. They were terrified. It had all backfired on them, and what at first was supposed to be a way to remind the far left of there place very quickly became an empowering pandoras box of left wing ideology. Over the following 3 years the center left of the party, enabled by the right wing and the newspapers would do everything short of "Jeremy Corbyn ate my hamster" to try and dethrone the man. But as of writing he's still firmly in seat and his popularity continues to grow at a previously unheard of rate. They've tried to smear him, it's failed. They've tried challenging his leadership by putting up a new candidate with more center ground political values. He beat him increasing his share of the vote (Meaning that he broke the record for the most votes a labour representative has ever received in a leadership contest and then broke that record again with an even larger majority) When a snap general election was called the center left couldn't contain themselves at looking for opportunities to try and tell people to vote for MP's and not for Corbyn as leader. Hell even Tony Blair came out of the woodwork to decree that Corbyn would destroy the country if people voted for him…And then Corbyns vision of labour increased the majority of there party in parliament. Quite substantially really. He secured more votes than Tony blair did at the height of his campaigning (Tony Blair in the UK is often seen as the benchmark of how to be a left winger and succeed in politics) and even though he didn't become prime minister, he gave the conservatives a bloody nose, sent right wing pundits into a tail spin and but the center left on notice.
It was a great feeling. For me; I'd always assumed that the kind of policies that I wanted to see implemented into the country; Proper funding for the NHS, UBI, greater care taken for people with mental health issues, a modernisation of the economy and a greater restriction put on shady business practises and media regulation in terms of promoting false or incorrect news. We're all just wishful thinking. I never actually thought someone would come along and say  "Yeh mate; we can do that no problem"…And yet with Corbyns vision of labour it all seems quite possible.
(Cornwall under Corbyns version of labour in 2033)
I now feel a bit of confusion really about where I lie politically. Realistically my politics align with what would be considered modern socialism. At the time of writing theres been a tremendous gulf in the political landscape, with the conservatives absorbing a good chunk of UKIP (The party that put out the idea of Brexit in the first place…Far right wing and typically racist) back into there vote share they now have a robust arsenal of people ranging from the quite reasonable and ultimately decent just straddling a line of politics that I disagree with right the way through to racist thugs who pine for a country that never existed. The left wing consist these days of people who actively detest the party in its current form but refuse to move to the conservatives out of pure red blooded hatred of there past misgrieviences. Through to the full blown Communist left wingers who wake up to the USSR national anthem every morning and go to bed to the Internationale every night. Myself? I agree with what Jeremy Corbyns Labour Party has to offer to a point. It's mainly there stance on Brexit that I disagree with. Im a firm voter of remaining in the European union though I accept that there needed to be a much needed conversation about the direction it was heading in…an opportunity that's very unlikely to come about now.
But my opinion is that "Well; I agree with 99 things that the Labour party are currently offering, I think I can swallow my pride over the 1 thing I don't agree with" Brexits a really big thing admittedly, but we currently have so many home grown issues that Im not going to split hairs when I agree with a majority of what the party is putting out there. These opinions and views have been labelled "Active communism" by the modern press and are ridiculed by the right as "A load of students who don't know any better trying to vote in a communist government"…but the thing is "A load of students" isn't enough to make the kind of leaps that the current labour party have in the UK. This is a genuinely growing movement and the ideas that I thought were "Wishful thinking" have never actually been closer to coming true before. Both parties, left and right, have lurched to there relative extremes. And for the foreseeable future it would appear that, barring a tremendous incident, The entire countries at a stalemate.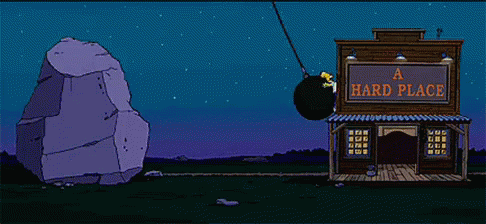 (British politics in 2018 in a nutshell)
*Believe it or not; this blog post started with the intention of being about the recent local election though it appears I've rambled a bit. I've gotten quite carried away. I think im going to make this a "Part 1" if you will. Im going to broach the subject of the local elections in my next blog post all being well. But I thought I'd share my political affiliation with you lot because some people are really interested in that kind of thing. Equally I'll end this post by saying that as a TLDR on my political affiliation. While Im aligned with modern socialism I don't feel comfortable calling myself a socialist. Mainly because I kind of feel I haven't "Earned" that right just yet. I'd feel like I was living a lie to start openly calling myself a socialist because I feel I'd be piggy backing on a current trend. I look at the people who weathered socialism in the 80's, 90's and 2000's who sat there silently whilst being mocked and I think "I cant really say Im with these lot. These lot have suffered for there beliefs and I've just rocked up at the 11th hour" maybe someday I'll lose my socialist training wheels. But for now I'm just a "Left winger"…and im happy to talk.
Addendum:
There's a bit I wanted to put into this blog but I just couldn't fit in anywhere. It's a bit of a clarification more than anything else. I don't care what your political affiliation is. Im not going to attack you for being left wing, right wing or center ground. What I will pick you up on is whether your a nice person in your day to day business and whether your hearts in the right place towards your fellow man. I have friends from the Far right and Far left side of the spectrum and while we may not see eye to eye politically on a number of things I realise that a persons politics does not define them anymore than the car they drive, the partner they marry or there choice of beer in a bar (Unless you drink Heineken in which case fuck you.) As a result I've had many interesting conversations with people, sometimes I'll change there minds, sometimes they'll change mine. Im a great believer in diversit of opinion and while I'll admit this blog post is very promotional in its left wing values. The left are far from perfect and the day they make the "Perfect political party" is the day that I eat a car out of sheer surreal bafflement. What Im trying to say is; Believe whatever you want to believe Im not going to judge you whether your Labour or Democrat, republican or conservative. Its whats in your head and your heart that define you. And I realise that's one of the hippiest things I could say. But I find it very true.
(Yeh theres going to be more of this…hopefully more coherent as well)
(In The next part! I work out my feelings a bit more and hopefully finally get round to talking about what I wanted to talk about in this part!)