So this one may be a bit disjointed. Mainly because at the minute I'm leading quite a hectic lifestyle trying to rebalance my home/work life. It's now July the 9th and today's been one of the hottest days in my area for a while. At this point I'm on the cusp of finally aclimitising to it…which is a pity because I know in the next fortnight or so we're going to go right back to the sludge fueld rain filled drudge that is british weather.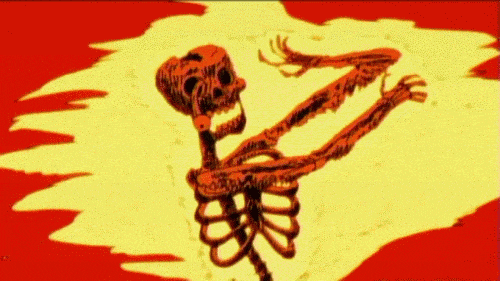 (Actual footage of me everyday for the last 2 weeks)
Yesterday was a pretty productive one in all honesty. I finally tackled some of the prep work for the Halloween specials I have planned for this year and I managed to do a bulk recording of packaging shots for upcoming episodes (I'm now pretty much up to date till early December which is nice).
(It was a satisfying if not burny experience)
One of the bigger things I did yesterday though involved something I've been meaning to do now for a very long time. And it's one of those things that's been playing on my mind pretty much since the 2nd season of my show started. We need to talk about "fourscore 2". Now I dont expect very many of the people reading this to know what "Fourscore 2" is…hell even the people who should know about "Fourscore 2" sometimes dont know about "Fourscore 2". it has a fairly long lasting history in british broadcasting though it's often overlooking in favour of it's Younger, Bulkier much more memorable brother.
So. The year is 1982 and Channel 4 is gearing up for it's big launch. it had been almost 20 years since the last channel launch happened with the fractured beginnings of what would later amalgam into ITV. As a result 4 wanted to do something drastically different. they didnt want to be seen as just another stuffy, conservative whiffing, stiff upper lip of a channel. They wanted to be seen as cool, modern and hip. the original ideology for channel 4 sounds almost otherworldly by modern standards. indeed if they ran with there original plan in modern times it would probably have crashed out of the listings about a week into broadcasting. This is because Channel 4's opening gambit was to run on a diet of Art house films, documentaries from around the world, american imports, alternative comedy and music. It was brilliant. Oh it was pretentious, it was hipster well before it's time. but theres something about a channel where I can watch The Smiths over my morning cereal, "Dream Stuffing" during my supper and "Letters from a dead man" while in a semi drunken stupor at 3 in the morning that just makes me fall in love with the concept of a "High art" terrestrial television channel. I mean…it wasnt faultless…when it worked it worked brilliantly…but art is a fickle thing and sometimes what reads as a good idea on paper can have awful and terrifying ramifications once broadcast…
(Yes this was a show that actually went out on television…Yes. One day I will cover this…And yes im now on a register for having watched it…)
But I digress; To coincide with this major event Channel 4 wanted an ident theme that sounded grand, bold, fresh. Something that would drag television kicking and screaming away from the somewhat classically royal theme tunes that had come before it. And in doing so they ended up recruiting one David Dundas (Of Blue Jeans fame) in to help score the music that would define the channel. And he knocked it clean out of the park. Because in 1982 Channel 4 launched with "Fourscore" and if you dont believe me that it was a bloody impressive piece of music here's how it went out at the time.
(BEHOLD YOUR NEW MASTERS AND QUAKE WITH FEAR!)
its a very impressive track with some serious studio work behind it. if you want some idea of how well received it was, well, it's still being used to this day (Albeit in a slightly remixed form) but what of "Fourscore 2"?. Well. As far as im aware Dundas isnt capable of just knocking something like "Fourscore" out of the park in one take and there were several variations of Fourscore that were brought into existence before we landed on the iconic theme thats hung around on 4 now for the best part of 36 years.
One of these variations is "Fourscore 2" effectively a somewhat more Jazzy version of "Fourscore" that managed to escape the cutting room floor, it did so by ending up as the "Go to" music for whenever Channel 4 had technical difficulties or, for a brief stint in the mid 80's, it was used to fill in air time when an industrial dispute meant that Channel 4 couldnt show adverts so instead they ran with a somewhat seething holding card slagging off the unions for daring go on strike at the detriment of the channel.
(Hey…I can live with a lack of capitalism in my adverts…jussayin)
It was also later saved by Dundas himself as "Fourscore" grew in popularity it was eventually issued as a 45 vinyl under a pseudonym "The Airwave Orchestra" and y'know what was the B-side to that 45? Yep. Fourscore 2. Now. I cant lie and say that I'd always been a fan of Fourscore 2…in fact it was only around 10 years ago that I first started actively watching channel idents and listening to test card music (It sounds better than it reads I can assure you…also for anyone who's curious the answer is "the 90's Central idents" and "For the good times" by Graham Preakett) but theres something about Channel 4's idents and music and in particular "Fourscore 2" that just draws me to it. I think it's probably because it's so representative of the time it was made really…you'll struggle to find a more 80's sounding test card track than "Fourscore 2" it's upbeat and whimsical and while I can understand why they went with the original "Fourscore" for the channel itself…I equally have to say that to me. Fourscore 2 blows fourscore out of the water.
(Ohhhhhh yesssssssss…*Covers up crotch area*)
So in 2017 when I was first planning my youtube channel and my videos I had no idea how long I'd be going for, nor did I really think about the long term layouts and styles of my videos. So when it came to assembling the first few episodes I just needed some music to open each episode that was inoffensive, upbeat and reasonably easy listening. my answer was to dust of Fourscore 2. Now as a filmmaker myself I realize that in using fourscore 2 im breaching copyright. But at the time I assumed I'd probably do my youtube channel for a couple of months, get bored and drift off…I almost certainly didnt think I'd still be here a year and a bit later with a website and various social media links. I realised pretty much halfway through season 2 of youtube videos that I really should consider moving to something a bit more copyright friendly…Channel 4 have a habit of striking videos with worldwide blocks and the last thing I needed was to have half my videos removed, so I decided to try and find someone to cover Fourscore 2 or do a soundalike (Because I Really do love it's composition)…2 seasons later and not much has changed. Until this week. This week I finally started writing season 5, and I couldnt let fourscore 2 continue…I really couldnt. If copyright wasnt an issue it'd be seeing me well right up to season 55…but at this point I need to protect my channels content and I needed to be able to go forward with something copyright friendly and similar in tone.
So. Armed with Garage band and a midi keyboard. I set about re-recording Fourscore 2. I'll be honest. it's not as good as the original. I tried my very best but im an amateur musician at best and David Dundas is…well…David Dundas. It came out better than I expected but thats not saying much. Im happy with it and for me it does the job. But this season will be the last one to use fourscore 2. I'll miss it in all honesty. but im sure you all can appreciate my position on this one and that you'll learn to love the new theme in September in the same way I myself fell in love with Fourscore 2 the first time I heard it. it wont be wrong…just different…at least thats what I keep telling myself…
(Yeh…its far from perfect…but for a 15 second sting it'll do the job…)
EDIT: As an additional; if you are interested in learning more about Channel 4 then you simply must watch Applemasks documentary on the history of the channel, he's funny, witty and bang on the money in covering every minute detail of this channels long and winding history from Arty/hipster repository to Reality TV bin and beyond in every shade colour and hue, seriously. Check him out. he's ace.
(One day I'll cover Channel 4 schools in detail…one day…)