So…the 1930's happened. It was a relatively quiet year…not much happened…there was a little bit of tension in Europe but things quietened down quite quickly (Some things never change)…World War 2 pretty much decimated the European film industry at the time. What at one point was an incredibly flourishing experimental and creative industry lost almost 50% of its resources over the course of the 2nd world war and countless movies were either destroyed for being deemed "Obscene" by both sides of the battlefield or halted due to the ongoing conflict. The result of the conflict had only one "Winner" from a filmmaking perspective really. The US, who used their several years not being involved in the war growing and firmly rooting their time into an industry they had started some 20 years prior. Hollywood is a small section of Los Angeles, no longer than16 blocks wide and five blocks high, this tiny piece of land was established in the name of film and film production some time around 1910 and over the following 20 years it would go on to grow one of the most substantial film industries in the world. America hadn't been directly affected by World war 1. In fact quite the contrary quite a few creatives most likely immigrated into the US around this time to escape the conflict. And through the 20's this industry would grow and grow and grow. By 1925 American movies were making up to 50% of all foreign film rentals and by the 1930's Eight studios basically owned Hollywood. Universal, Fox, Paramount, RKO, Loews Incorporated (Part of MGM), Warner Brother, United Artists and Columbia Pictures.
(The "Land" bit fell down…so they took it away…the rest is history.)
All of these studios were fairly well known for each having a genre that they excelled at and largely stuck to. Universal for example was seen as a Horror Studio, RKO was known initially for musicals before branching out more into fantasy and Sci-fi and so on. There was however a growing issue. The film industry was running the risk of becoming quite insular and there was a growing concern that there may come a time where noone outside of those 8 film studios would be able to successfully market their film. While it wasn't quite an anti-competitive environment…if you weren't one of the "Big Eight" and were planning on having any success outside of your town in filmmaking…you'd might as well not bother at this time. There was equally an even bigger concern that through various backroom dealings, these big companies may eventually merge. Effectively creating one "Super company" that would have complete and total power and influence over the market. And while the US loves them some capitalism. They're generally petrified of the idea of a single company owning close to 100% of all assets in one particular industry (As well they should).
(Theres a love for Capitalism…but not TOO much capitalism…and a hatred for sharing…I dont get it either…)
Equally their was a growing call for more regulation around the content of films themselves as the industry had slowly been edging closer and closer to more and more edgier content designed to shock, disgust or nauseate audiences. because of this in 1930 "The Hays Code" was introduced to predominantly stop the possible intervention of the government in enforcing their own brand of regulation on the industry. It was technically entirely voluntary but the oligopoly of studios quickly adapted the code as a means of keeping those reactionary pressure groups and the government at bay. The code was pretty broad and unclear. There wasn't anything specifically "Banned" but it was effectively a set of guidelines that covered the basics (No on screen sex, no drug use on screen, no gore or heavy blood, no profanity etc…) the code was in effect until 1966 and quite nicely cuts across the decades we'll be covering today.
Both the 1940's and 1950's would effectively be dominated by 2 major events, the strict regulation on competition laws within cinema itself and the rise of science fiction/horror films. And the former is probably the best place to start. As mentioned earlier from the mid 20's to the mid 30's the Hollywood system was basically "If you arnt part of the Big 8, don't bother". You might think that's a bit of a defeatist attitude but the reality is that even if you made your film in this time, there wasn't any way outside of being incredibly chummy with someone who owned a cinema for your film to ever be screened anywhere because of a practice largely known as "Block Booking". Y'see a few of these big 8 owned the cinemas that their films played in. So only their films played there. And the studios that didn't own their own cinemas? (Or didn't own a lot of cinemas) they'd simply "Block book" out a cinema almost indefinitely with their films to stop other companies taking their patch. Effectively they'd pay up front to book out every screen of every cinema sometimes taking entire chains. Just to screen their own movies for infinite periods of time. Had MGM not owned a cinema chain they would realistically just pay all the cinemas within a certain strategic distance to only play their movies sight unseen. Blocking out any competition and keeping their movies more profitable over the competitions. You might see this as being a bit unfair…and so did the US department of Justice.  In 1938 the issue became so bad that the department of justice sued all 8 major studios for the practice which was settled on a "Gentlemens agreement" in 1940…the studios did what all studios do the moment something isnt hard legislated though and threw that "Gentlemens agreement" straight into the trash. And while they did sort of reduce their amount of block booking, the agreement suggested that no block booking should take place at all…it would be a bit like promising your flatmate you weren't going to eat his food anymore, eating all his food. But when he confronts you about it claiming "Well hay! I left you some milk for your cereal!…assuming you had any cereal left…"
(You cant like…OWN food that grew in the ground man…)
This weakening of guidelines did have the benefit of allowing some films to finally start slipping through the cracks. Some re-edited in the form of serialisations and others in an actual full length feature format. As you can well imagine this slight creaking open of the door inevitably cause the splurge of more "Independent" features shoot through the cracks…some pretty decent…others…not so much. The so called "Poverty Row" were the groups best suited to come out of this agreement in the best light. They we're a small conglomerate of B-movie and lower budget production studios desperately trying to make big money but forever held back by the studio system of the time and the general fact that the majority of their crews and castings were misfits. Wannabe scriptwriters, directors with a "Vision" actors who thought they were Betty davis when in reality they were more Weird Al. Poverty row was a fairly shortlived concept but in that moment between 1938 and 1948 they were in their element. Producing such classics as "The Mad Monster" which was basically a poundland rip off of the wolfman with non of the charm and about 1/10th of the visual creativity. Or "White zombie" a film starring Bela Lugosi only 1 year after he defined the vampire Genre with Dracula playing a Haitian zombie master who can resurrect the dead, who decides he wants to kill a woman and bring her back to life to be his forever alive wife…yeh things got a bit weird sometimes on Poverty row.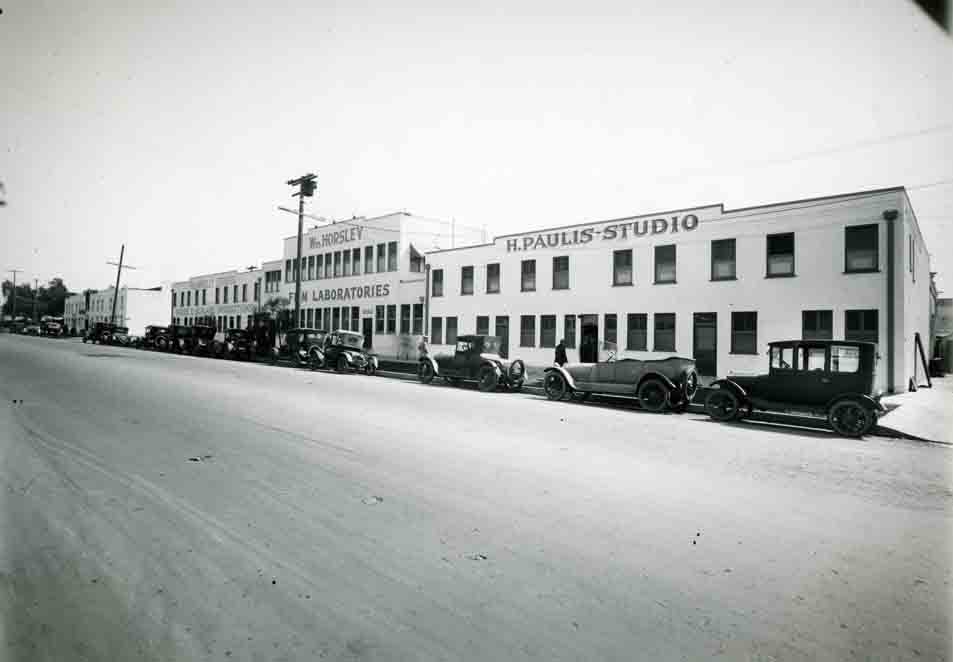 (An Example of Poverty Row…Small and mighty)
These films were usually personified by cheap sets, bad actors and ropey editing, cheap and quick filmmaking where studios were constantly in a state of Pop-up and decline. But for that 10 year gap they were making serious cash. But that all came to an end when paramount (a long time member of the now rechristened "Big Five") was sued formally by the USDJ for once again flouting the rules on block booking. And in a historic ruling it was finally written into law that film studios were now not allowed to just blind block book out entire chains of cinemas solely for the screening of their movies. That any cinema screening films must have at least 2 distributors under there books at any one time, that discrimination against smaller film companies was to be outlawed, and that screening schedules must be uniform so as not to allow some theatres to be bribed with premiers over others.
(And 8 became 5…)
This was both the make and break of Poverty row. On the one hand it effectively gave them free reign to put any of there content into cinemas. On the other it quickly bought the success of these schlocky B-movies to the attention of the Big Five who realised they could make a small fortune in producing smaller, better quality horror/scifi films in the vein of these B-movies for a fraction of the effort and cost. This in turn birthed what is probably the most famous era of B-movie filmmaking in the history of cinema. The age of the Creature Feature.
While the term "Creature Feature" wouldn't be coined for at least 2 decades beyond when the era actually started (It was also referred to "The Atomic Age" because of the overuse of Nuclear materials as a means of creating said creatures) it came to stand for a swathe of films released in the 1940's and 50's that ranged from supersized animals, to abominations, to people transforming into creatures. (What would later morph into the Cronenbergian nightmare subgenre of Body horror). this included films like; "Man Made monster", "The Wolf Man", "Them!", "The Thing from another world",  "The Blob", "Tarantula", "The Deadly Mantis", "The Fly", "The Crawling eye", "The Black Scorpion" and "Attack of the Giant Leeches" the list literally runs into the hundreds of titles. And about 90% of them could be summed up as follows. "A scientist has a plan to make the world a better place by developing a chemical or technology that in theory will solve a major ecological crisis. Something goes wrong with the chemical/machine and an animal or human cells are caught in the crossfire resulting in either a giant or mutated version of said animal/human destroying everything in it's path until it's either taken down by the army of dies of it's own self inflicted injuries". This also usually involved a hell of a lot of back projection to make these creature look massive, or in the case of a human prosthetics to make them look hideously mutated. If it isnt a scientist working for the benefit of mankind, then it's a mad scientist looking for revenge on mankind of shunning his idea of wanting to create a 90 foot spider or a half man half Wotsit hybrid.
(Sort of…)
Its important to appreciate that there was a very narrow window of a few years where these movies transitioned very quickly from "Genuinely impressive must see cinema" to "Oh jesus how bad can these films get!?" nightmares. And it was simply due to repetition. Too many people making exactly the same film but with varying effects budgets and different types of animals. It's an important takeaway in the film industry. I always try to live by the motto of scriptwriter Terrance Dicks who said "You can have an original idea; but it need'nt be YOUR original idea" but you also need to be aware of your surroundings when living by that rule. It's fine to make an action movie, or a mafia film, or an emotional experimental black and white art housefilm dubbed onto tape for realism…but if your doing that at a time when those genres are being made by literally absolutely everyone else (And yes. I am talking everyone outside of this university campus as well) then your touching attempt at making a powerful impact on your audience will land about as well as an egg to the face of a minister. I always encourage film makers to look out beyond there "Clicks" their friend circles and actually explore what other university film makers, what other indie film makers are making. And then avoid that stuff like the plague unless you can genuinely improve on those ideas. Because if you cant (And it's typically very unlikely that you can) your film will be utterly defanged and it just wont land the way you think it will.
(I guarentee one of you at some point in your film making career will make a varient of this)
Poverty Row ended for a mixture of reasons, in part because the big studios realised they could make more money by just making marginally better versions of films that were originally made by the starving artists of the Hollywood system and in part through syndication the row would all but cease to exist by the mid 1960's due mainly to the films being screened in syndication on television. The row moved into TV and TV movies became the new poverty row of cinema. Something that's only really started to be corrected in the last 10-15 years really. But we'll get to TV movies another time because we're already pushing our luck here and I haven't even got round to talking yet about what is arguably the best and worst thing that Poverty Row birthed in it's time.
(This handsome mother lover!)
Edward D. Wood Jr is a name synonymous with bad and cult film making. A poster boy for the age, his movies regularly chart as some of the worst ever made. I would happen to disagree with those polls but hey; everyones a critic these days…Mainstream audiences will probably best know him as the subject of Tim Burtons biopic "Ed Wood", being played rather eccentrically by Johnny Depp. Now I should be clear; their are much MUCH worse film makers out there. Not just in the modern day but in the past as well. The likes of Coleman Francis, Clark Paylow and even Harold P. Warren would give Wood a run for his money. But Ed was an auteur. And the one thing he had going for him was a ruthless drive to get his films out there to as wide an audience as possible no matter what. Whether it was via exploitation cinema and the likes of his gender identity crisis spectacular "Glen or Glenda" or whether it was marketing his magnum opus "Plan 9 From outer Space" as being the last feature film of Bela Lugosi (Only a half truth as Lugosi is only in the opening minute and a half so of the movie and is then played by doubles for the rest of the film…what a way to go….). If there was an angle that could be taken for low to no money, Ed was the man to take it.
Set's were mainly cheap wood or cardboard, there was little to no set dressing (A plane cockpit was literally just bowed cardboard, a curtain and 2 bog standard plastic chairs. Not even desk chairs. Just cheap garden chairs.) Let it never be said by anyone (student or otherwise) that you dont have the budget to realise your vision. Ed was doing octopus fights and graveyard based alien invasions with nothing but a few pie plates and a few good people who were genuinely captivated by the enthusiasm of this man.
(While not an "Official" set photo…I'd be surprised if the real Ed wood Didnt pull this face while filming his masterpieces at some point)
I think thats an important lesson to take away from this period of film making if nothing else. Have passion for your film. Genuine passion. If it isnt keeping you awake at night and making you dance between thinking its the best idea in the world and making you a nervous wreck, it's not worth making. If you develop an idea and your half hearted about it; Bin it. It'll never be great and by the time you get to shooting you'll want to cave your skull in out of hatred for it. But if you really truly love something. Even if it's just the seedling of an idea, it'll carry you the whole 9 yards and then some. From experience filmmaking has taught me that the best films are made with 2 kinds of energy, absolute enthusiasm, or hatred sought from vengeance. These are the only two energies that seemingly get the job done (And done well) you're either making your film because you genuinely believe it's worth it's existence. Or because you want to prove to someone or something who's been negative towards you that it's worth existing and has meaning and value.
Some of the best films I've seen have come from those two places, and Ed wood was definitely in the former of those camps. All his films are corney, laughably bad and bordering on the unwatchable in places. But because he genuinely thought these films were worth their existence they possess a quality that half loved or unloved films can never achieve. That kind of positive energy resonates through the film in the direction, the cinematography and the performances. You can almost hear Ed in the background radiating a "This will be the shot they remember me for!" attitude. And thats why his films have lasted in the public consciousness for so long, they're fun goofy little movies that have a charm all of their own accord.
Rather unfortunately Ed would never experience the adoration that was bestowed to him by cult cinema fans. After Plan 9 he made 2 further mainstream features "The Violent Years" and "Night of the Ghouls" both slightly more grindhousey than his previous works. As if marking the end of an era "Night of the ghouls" was released in 1960 and it was his last attempt at mainstream success in B-movies. While he would try on and off over the next 2 decades to get another chance. It would never come.
(Truely it was the end of an era.)
After "Ghouls" he slowly began to sink into a tide of pornographic direction to make ends meet and alcoholism. Ed died in 1978 due to a heart attack, he was 54 years old. Less than 2 years later Woods "Magnum Opus" "Plan 9 from Outer space" would be voted the "Worst movie ever made" by the founders of what would go on to be "The Golden Turkey Awards" hollywoods most esteemed honour when it comes to terrible film making. In 1986 Wood would feature extensively in the book "Incredibly Strange films" and in the early 90's MST3K would riff 2 of Woods films to great audience response. The 10 years following woods death would see his entire ouvre re-evaluated and what was at one time unwatchable dross was now loved unwatchable dross…and that changes everything.
(Ed's last film was found quite recently and has been released on Bluray. I havent seen it yet but I certainly hope to.)
As we see out tonights session Im going to play you Woods Masterpiece "Plan 9 from Outer Space" I'd like you to bear in mind while watching this film that Ed Wood thought this was the movie that would "Make" him. The film that was going to get him the star on the hollywood walk of fame and would set him up for life. And…in some ways he was right. Though probably not in the way he had intended. As always im happy to talk about any of the films mentioned tonight and im also happy to recommend any titles should anyone here be interested in learning more about Ed wood, film makers like Ed wood or the Atomic Age of film making in general. Thank you again all for coming. And Enjoy.