So im writing this at a point in time where the websites kind of in a bit of a limbo of sorts. Its not yet publishing the newest content from my youtube channel but I am still posting some new content in the form of my Instagram pictures, Blogs and anything else that needs doing in order to make this site both interesting and useful. I wanted to make sure that before I officially announced this site to my youtube/twitter/Instagram/facebook followers that it was as up to date as it was physically possible to be (And if you are one of my followers and you've randomly stumbled across this site. First; Bravo! Second; let me know! I'd love to hear it!). This was mainly because no one wants to visit a half built website, But also because it'll give people something to look at properly when I do announce this sites Launch formally. That being said it has kind of stirred a few emotions with me.
In a sense its kind of made me a little bit nostalgic for what was going on about 12 months ago. Back in April 2017 TYTD Reviews was just one of about 5 ideas that floated in and out of my head on a semi regular basis. To jump forward nearly 12 months and find that not only am I still producing content but that its taken me on a journey that's led me to talking to some of my favourite movies directors. Inheriting a massive video tape collection and a channel that's helped me make some really quite wonderful friends on message boards and youtube itself really makes me feel like I spent my time well this past year.
(Behold! the original first thumbnail for "The Dragon Lives again" Gaze upon its crapness in awe and wonder!)
I've decided in my "Video review" section (Particularly with my older videos) to add a portion of text above the video retrospectively talking about those early reviews now that I'm quite a distance away from them. And its been a lot of fun looking at my early (And frankly shocking) reviews and seeing how far I've come in developing my talking style, video designs and the fundamental changes that have taken place over the months. There have been some that I've already decided will need to be revisited at some point because I really have failed to do the film justice in these early videos. But it puts me in a somewhat nostalgic mind-set. When I wrote and recorded my first four episodes (An un-produced pilot episode, The Dragon Lives again, The Last man on Earth and The American Ninja 2) I didn't make any notes while watching the movies, and I actually went to the trouble of driving my car over to an empty supermarket car park so that I could record in private. I remember it being vaguely cold and feeling terrified that someone was going to drunkenly wander across the car park in the middle of the night and find me with my Ipad mini illuminating my face with some chunky headphones on so I could check my levels. I'd prefer not to be mugged/stabbed…
Nowadays every film I talk about has a minimum of 5 pages of reference notes, a 4-5 page script and a day or twos total video editing time. Even having come from a film background if you really knuckle down when it comes to youtube videos you quickly learn a new style, pattern and language that's quite alien to the professional film industry. Its been a very enlightening experience.
So Im backfilling my site with 1-2 old videos a day and as of the time of writing I've just written my article for "Bloody Muscle Body Builder in hell" I reckon if I keep this up I should more or less be caught up in time for the launch of Season 4. Which would be a rather nicely timed thing really.
In my real life; things are getting a bit stressful. I've been having a few issues at work recently that im really hoping to resolve sooner rather than later. I feel at times like I'm on the outside of my workplace looking in, rather than it being the other way around. I just feel a bit like I'm being purposefully isolated. And while I don't mind the isolation to an extent I feel like it's being applied somewhat maliciously by certain colleagues. Luckily Mrs TYTD, my family and her family have all been incredibly supportive of me during this time which has been very helpful in keeping my mentality and spirits high, They've really been amazing… and of course you guys (The people who watch my videos and actively seek out my blogs) have been a tremendous comfort to me during this time too! Every nice comment, thumbs up or share has really given me a morale boost so I really cant thank you all enough. As I say I hope this resolves itself sooner rather than later. Because frankly the issues im having have started to bore me a bit and I'd much rather just get on and keep my head down for a bit.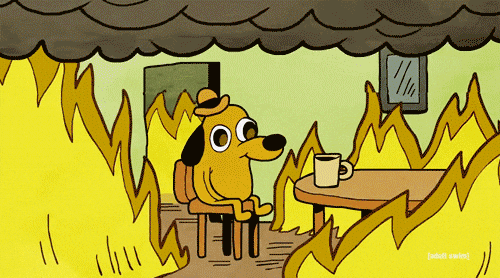 (Im in a weird place where this gif simultainiously perfectly sums up my current situation and yet at the same time it doesnt…and this is on an hour to hour basis at the minute…)
On top of this I'm also desperately trying to get my video Schedules back on track after an incident last month where I came down with flu for 2 weeks (Costing me approximately 3 maybe even 4 completed videos) it really knocked it out of me and realistically it was almost 3 weeks before I even sat down to watch a new movie to review. Luckily over the last few weeks I've been able to slowly catch myself back up and as it stands there are 3 episodes of Season 3 left to upload (Over 2 weeks) and 8 episodes of Season 4 fully completed (With 13 episodes written at the time of this publication) I probably overdo it on the pre-recording but I like the gap. Its sizable and it means I'm covered for every eventuality.  Though it does mean my recommended film reviews take a hell of a long time to get published (Which I do sincerely apologise for).
Short film Spotlight is also giving me a bit of grief at the minute so far I have 5 episodes written, 2 recorded audibly and 1 episode fully completed. I was aiming to make this one my 2nd weekly show. But its becoming very apparent that I may have to make it fortnightly just to help keep my sanity in check. (There'll be more on Short film Spotlight in an update video I'm planning on releasing at the same time I formally launch this website) its actually surprisingly difficult to produce 2 research heavy shows a week…even if only one of them is long form…But I hope you enjoy it when it comes out.
Its not all doom and gloom though! I've recently reconnected with an old musician friend of mine who is currently working on a reworking of the TYTD reviews theme for me (Which should debut with Season 5) which will mean I'll finally have a theme tune that's  100% royalty free. I've also been working with my friend to produce some new music videos for him which has been fun. I've added a links and affiliates page to my site and I'm very happy to say that he's agreed to affiliate with me and my channel in principle. As soon as he's figured out what site he'd like to promote through this websites affiliate links it'll be added to the list.
I've also got a cracking nights entertainment lined up this weekend as I'm going to a comedy show  to see a very British comedian whom I've seen at least 4 times previously and whom every time I see him I end up almost passing out laughing. So yeh; that should be a laugh (No pun intended) I've also finally started going through my massive Tape collection and there's some absolute GOLD in there. So keep an eye out on the channel because I will be covering quite a few of these over the next few weeks.
I suppose to summarise; I feel like I'm somewhat losing control of some aspects of my life while simultaneously really getting my life in order in other aspects. And its weird and unusual and a little bit scary at times because for the last 5 years or so there's been a tremendous sense of stability. Change is good though. It helps you learn to better adapt to your surroundings. Its just a shame I'm usually too sleepy or too busy to be able to actively grab the bull by the horns these days…
(Of course; Heatons got me through a hell of a lot in my life. I think this track is a pretty good way to end this…)